Workplace
Office 
Our midtown Manhattan studio, completely designed in-house, is spacious, functional and easily accessible to all forms of public transportation.
Our daylight filled design studio fosters a collaborative and team-oriented work environment.The open conference and social gathering area is conducive to staging both traditional and virtual meetings and has ample space for product demonstrations which also transforms into a stylish hospitality environment hosting casual social events in a relaxed atmosphere.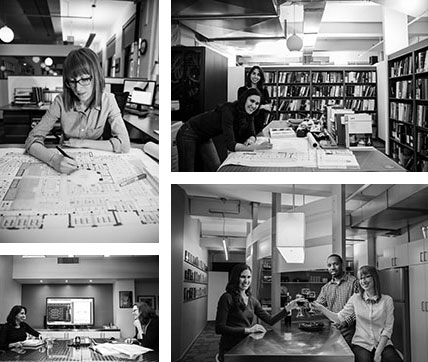 Mentorship
We are dedicated to training and inspiring young talent. Through our 22 year history we have mentored countless lighting professionals with some of our most senior staff members having started as interns and junior designers. All team members, regardless of experience level, follow projects through from beginning to end, exposing them to every aspect of architectural lighting. In the process developing them into well rounded lighting consultants with strong design, technical, project management and communication skills. 
CAREERS
SBLD Studio is a dynamic practice with ever evolving needs. We are always interested in hearing from job seekers with varying levels of experience. Please submit your resume to info@sbldstudio.com.